Luke Swenson Jigged Bone Lock-Back Folding Knife, File-Worked Liners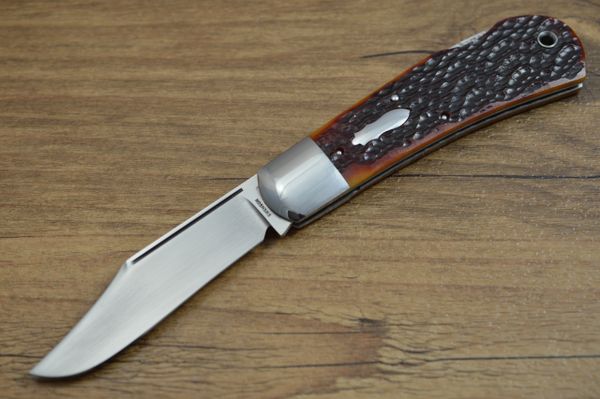 Luke Swenson Jigged Bone Lock-Back Folding Knife, File-Worked Liners
Luke Swenson has been making knives for over 10 years.  He has truly taken his knifemaking skills to the next level.  He has become a master in his own right at making slip-joint and lock-back folders.
Luke really did an outstanding job with this lock-back folding knife.  It is new and direct from Luke's table at the 2022 Blade Show.  It features a CPM-154 stainless steel clip point blade, hand-rubbed to a 600 grit satin finish.  The spring and lock bar are also CPM 154.  The liners are 416 stainless steel and are integral to the bolster.  Both liners are tastefully file-worked along the top of the handle.  The liners are mill relieved and jeweled and can be easily seen on the side of the lock bar release.  The scales are two well-matched bourbon dyed jigged bone scales, with great color and texture and a 416 stainless Bombshell shield on the presentation side.  Nice comfortable long pull nail nick, with a smooth pull.  The blade locks up tight with a "click" and no play, and the blade seating is perfectly centered.  No half stop (obviously).  Nice walk and talk.  Comes in a padded, zippered Swenson Knives case.

Condition:  New from the Maker
Overall length:   7 1/4"

Blade length:     3 1/4"
Closed length:   4"