Luke Swenson Large 2-Blade Trapper Catalina Jigged Bone Slip-Joint Folding Knife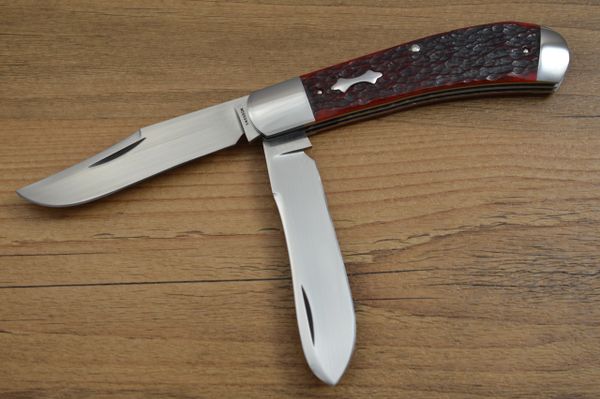 Luke Swenson Large 2-Blade Trapper Catalina Jigged Bone Slip-Joint Folding Knife
Luke Swenson has been making knives for over 9 years.  He has truly taken his knifemaking skills to the next level.  He has become a master in his own right at making both slip-joint and lock-back folders.  This knife is new from Luke at Blade Show 2022.
This is one of Luke's large 2-blade Trappers.  It features a clip point blade and a skinner blade, both made from CPM 154, hand-rubbed to a 600 grit finish.  The scales are Red dyed Catalina Jigged Bone from Culpepper and Co., with a gimp or ribbon shield on the presentation side.  The springs are also CPM 154, hand-rubbed to the same 600 grit.  The front and rear bolsters are 416 stainless steel, and are integral to the 416 stainless steel outer liners.  The center liner is 410 stainless steel.  The pins and shield are also 416 stainless.  The outer liners have been milled relieved and jeweled.  Both blades have deep, well defined nail nicks, with firm, smooth pulls.  The blades lock up tight with no play, and the blade seating is perfectly centered between their respective liners.  Both blades have half stops.  Nice walk and talk.  Comes in a padded zippered "Swenson Knives" case.

Condition:  New from the Maker
Overall length:      7 3/4"

Clip Point Blade:   3 1/4"
Skinner Blade:      3 1/4"
Closed length:       4 1/2"