Luke Swenson Lock-Back Lanny's Clip, Carved Mahogany Bone, Blade Show 2018 (SOLD)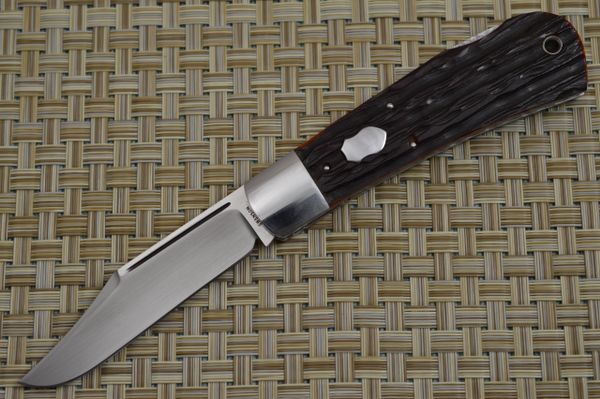 Luke Swenson Lock-Back Lanny's Clip, Carved Mahogany Bone, Blade Show 2018 (SOLD)
Luke Swenson has been making knives for over 7 years.  He has truly taken his knifemaking skills to the next level.  He has become a master in his own right at making slip-joint folders.
This gorgeous outstanding Lock-Back Lanny's Clip features a RWL 34 stainless steel blade, 416 stainless steel pins, Federal shield, and Integral liners.  The scales are what sets this knife off.  Luke has used some outstanding Mahogany Deep Canyon Carved Bone, with rich color and texture - and much more impressive in-hand.  This knife is Brand New and direct from Luke at the 2018 Blade Show.  The blade has a long, comfortable nail nick, with a smooth pull.  The blade locks up tight with no play, and the blade seating is centered.  No half stop.  Nice walk and talk.  Comes in a padded zippered case.

Condition:  New from the Maker
Overall length:   7 1/4"

Blade length:     3 1/4"
Closed length:   4"