Mark Banfield Bloodwood Clip Point Hunter and Tooled Leather Sheath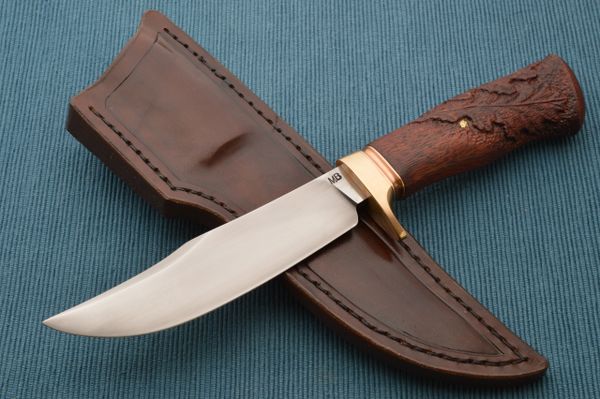 Mark Banfield Bloodwood Clip Point Hunter and Tooled Leather Sheath
Mark Banfield calls Bay L'Argent Newfoundland Canada home.  This knife is Mark's Bloodwood Clip Point Hunter.  The blade has been hand forged from 5160 carbon steel.  The blade was edge quenched and then tempered twice.  It was then hand sanded to 400 grit.  After sanding, it was then lightly acid etched to reveal the edge quench line.  The handle is made from Bloodwood, and expertly carved by Mark with English Oak leaves.  The fittings, including the single-finger guard, spacer and pin are all bronze and satin polished.
The knife will come with a hand tooled 8 – 9 ounce leather sheath dyed dark brown, also made by Mark.  Mark describes this knife as "one of a kind".  Included with the knife and sheath is a hand signed specification / guarantee letter from Mark stating "If you ever have any problems with this knife or sheath, please let me know and I'll do my best to fix it".
The knife is nicely weighted and balanced and feels great in-hand.  Mark marks the blade with "MB".  A great deal of work, time, materials, and craftsmanship went into building this knife.  This knife comes directly from Mark's shop.  To read more about Mark's knives visit his website (
http://www.banfieldblades.com/
).
Condition: New from the Maker
Overall length:      10 1/2"

Blade length:         5 3/4"
Handle length:       4 3/4"