Matthew Lerch SCAMP Liner-Lock Flipper, Zirconium Scales, 154 CPM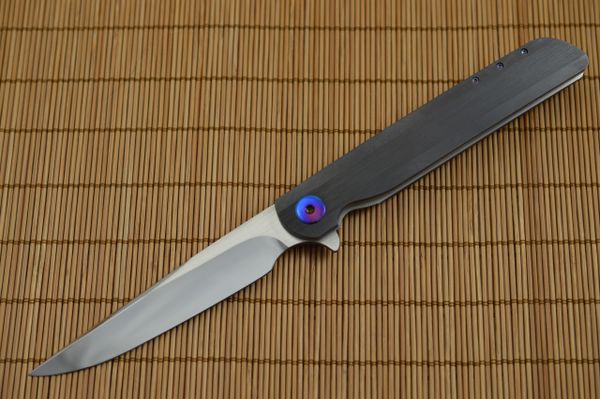 Matthew Lerch SCAMP Liner-Lock Flipper, Zirconium Scales, 154 CPM
 From Matt Lerch's website...
"I specialize in interframe and integral folders with each knife being individually crafted using the highest quality materials available.  The character of each knife depends on the components and customizing techniques.  I offer unique, patented mechanisms for the fun factor.  Artistic carving is another skill I use to add dimension.  For steels and engraving, I seek out the finest artist in their individual crafts.  With these combinations we are able to offer truly unique pieces. 
Guarantee

     I guarantee, to the original owner, that my knives will be free of defects for as long as I am able to make knives.  This assumes the knife will be used as a cutting tool and that proper care and maintenance has been administered."
This Scamp flipper, liner-lock, is Matthew Lerch's newest model.  It features a hand polished CPM 154 clip point blade with satin flats and notched flipper, and two-tone satin finished, full zirconium handle scales.  The blade is pristine.  The darker areas of the blade seen in the photos are reflections in the highly polished finish.  The liners are bead blasted stainless steel, the pivot is blue / purple anodized, there's a notched stainless steel backspacer, and a tip-up Mokuti pocket clip with hidden screws.  The blade rides on bearings, exhibits excellent detent, solid lock-up, no lock stick, and dead center blade seating.  Includes a padded LERCH Velcro case.
Condition:  New from the maker
Overall length:  8 1/8"




Blade length:    3 1/2"




Closed length:  4 5/8"