Maxime Belzunce "STAN" Liner-Lock Front Flipper Knife (SOLD)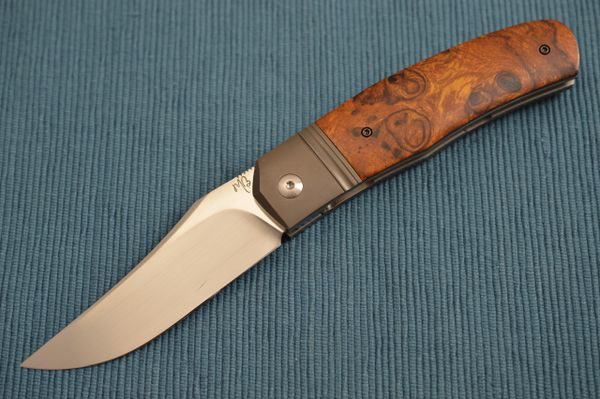 Maxime Belzunce "STAN" Liner-Lock Front Flipper Knife (SOLD)
Maxime Belzunce is from ISTRES in the Bouches-du-Rhône department of France. His knifemaking skills are very well known in Europe, and after attending Blade Show 2022 his work now has a global appeal.  His work is highly regarded by both his fellow knifemakers and collectors.  Maxime makes some of the finest folding knives, available anywhere.  From raw materials to the meticulous construction and assembly, it is all about the fit and finish of the knife.  He has mastered the ability of making a piece that is both functional, as well as pleasing to see and hold.  His fit and finish is top shelf, each knife having incredible detail.  
This liner-lock, front flipper is brand new and direct from Maxime at the 2022 Blade Show.  Maxime calls this model "STAN".  The trailing point blade is RWL34 stainless steel, with his initials "MB" etched at the top of the flat near the bolster.  The bolster, liners and tip-up mounted pocket clip are all titanium.  The pocket clip and bolster have a darker finish than the liners.  The scales are Desert Ironwood.  Maxime has added just enough jimping on the blade spine to assist with flipping the blade open with your thumb.  And he has included a darkened titanium backspacer.  The blade flips open super smooth and quick.  The blade has just the right detent, locks up rock solid, sits centered in the liners, and there is absolutely no lock stick.  The knife comes in a "MB" padded zippered case.  This knife is outstanding!
Condition:   New from the Maker
Overall length:  8"
Blade length:    3 1/2"
Closed length:  4 1/2"