Mike Zscherny Slip Joint Lock-Back Folder, Red Jigged Bone, File-work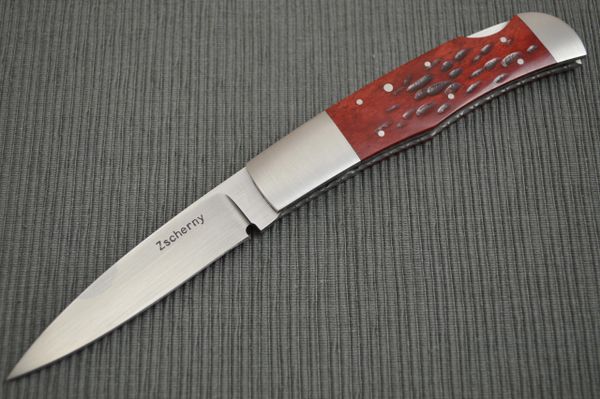 Mike Zscherny Slip Joint Lock-Back Folder, Red Jigged Bone, File-work
Mike Zscherny has been a full time knifemaker since 1978. He is well-known for his folding knives, and their outstanding fit and finish. Mike started his career making art knives, specializing in liner-locks. He then moved on to traditional slip joints, and more recently has entered into tactical knives.
This custom slip-joint folder with a lock-back demonstrates Mike's skill as an artisan and craftsman. It is an early piece, as you can tell from his mark "Zscherny" on the blade. We believe the drop point blade to be CPM-154CM, as this is a steel he has worked with numerous times. It has a beautiful hand rubbed finish. The scales are nicely matched red jigged bone, and we believe the front and rear bolsters to be 416 Stainless. The construction of this knife is near perfect - you cannot feel any of the seams between the bolsters and scales, or the blade and backspacer. The liners are tastefully file-worked around the entire handle. There is no nail nick. The blade opens so smoothly, you don't need it. The lock is a tad stiff - nothing a little cleaning / oiling wouldn't take care of, but we'll leave that up to the new owner. And there is what appears to be a reddish brown material (possibly Micarta) between the rear bolsters. The blade locks up tight with no play, and sits well-centered in the liners when closed. There is no half stop on this one.
This knife came from the collection of the original owner. It has been well cared for, stored properly, and is in excellent, unused condition - near mint. There is no evidence of use, sharpening, or carry. Comes with a padded zippered case.

Condition: Previously owned
Never used, carried or sharpened
Overall length: 6 1/2"

Blade length: 3"

Closed length: 3 1/2"