Norm Levine Lock-Back Folding Knife, Green Jigged Bone Scales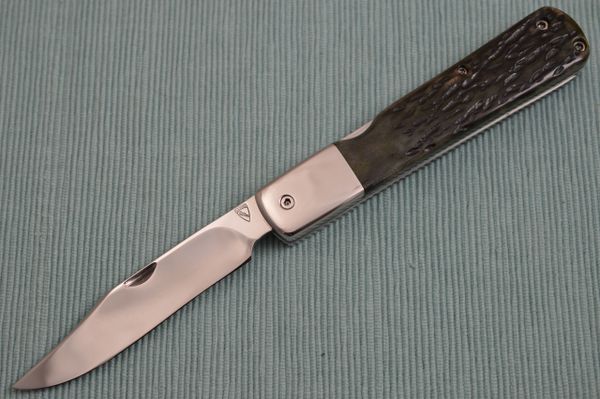 Norm Levine Lock-Back Folding Knife, Green Jigged Bone Scales
This mid lock-back folding knife was made by deceased California knifemaker Norman Levine of Dragon Knives.  Mr. Levine was tragically killed in an automobile accident the week before Christmas in 1995, hit by a drunk driver.  He began making knives in 1944, and started doing it professionally in 1974.  He continued making knives until his untimely passing.  He was a full-time maker, and a long-time voting member of the Knifemaker's Guild.  Norm focused much of his later career on making fancy art knives.  He was an incredibly talented craftsman and a gifted artisan, who made some outstanding folding and fixed blade knives.  His knives always show exceptional attention to detail, and his fit and finish was right up there with the very best.  All of his work was done solely by hand.  Something that is rare to find these days.  He was always more than willing to help anyone who wanted to learn the knifemaking business.
The knife features a precisely ground and highly polished blade, with a deeply ground nail nick.  I'm not sure what steel was used, although Levine always ground premium-quality steels, so it's likely either CPM 154 440C.  It shows excellent symmetry with crisp, clean lines.  Levine's grinds were always outstanding, as is clearly evident in this piece.  The blade was ground with a functional choil on the underside.  It's perfect for a forward-adjusted grip when greater blade control is desired.  The handle scale material is dyed green jigged bone.  The bolster and liners are also highly polished, and are likely 416 stainless.  This is a substantial folder, weighing approximately 6.7 ounces.
This knife probably dates to the late 1970's or early 1980's.  It was previously owned, but I'll call it near mint condition - only for the fact that it was previously owned - it is unused and not been carried, and I cannot find a flaw.  The blade locks up with the slightest "tick" of side-to-side play, that is barely perceptible.  The blade sits just about centered between the liners when in the closed position.  Comes securely packed - no case or box.
Condition:  Previously owned.
                   Never used, carried or sharpened.
Overall length:    8 3/4"

Blade length:      3 3/4"

Closed length:    5"