Ralph Turnbull Raindrop Damascus, Black Lip Pearl, Lock-Back Folder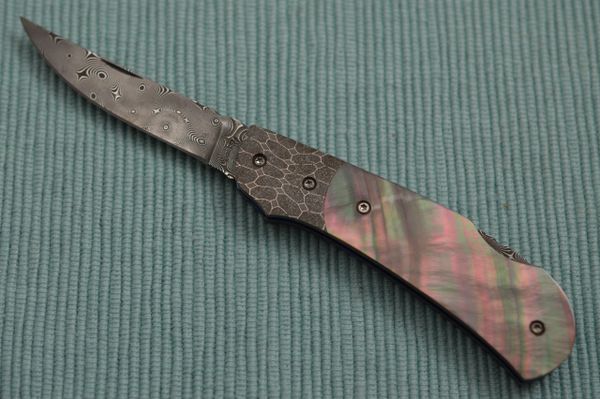 Ralph Turnbull Raindrop Damascus, Black Lip Pearl, Lock-Back Folder
Ralph Turnbull has been a member of the Knifemakers Guild since 1978.  His knives are a work of art.  Ralph knives are built from only the finest materials, and are of the highest standards of construction.  Hold one of his knives and you will feel the quality, and readily see the fit and finish he is known for.

This knife is one of Ralph Turnbull's (RT marked on the ricasso) lock-back folders, featuring two beautifully matched scales of vibrant and colorful Black Lip Pearl, blue anodized titanium liners, file-worked Damascus back spring (with file-work also running about 1/3" up the spine of the blade), Raindrop Damascus blade, and Wasp Nest Damascus bolster.  The blade opens with a small discreet nail nick, and locks up tight without any blade play or wobble.  The blade sits just about center when closed.  This knife is the total package from Ralph.  It is tastefully done, and beautifully executed.  A classy gent's folder that will get a lot of attention.  Comes in a R.A. Turnbull padded, zippered case.

Condition:  Previously owned. Mint.
                    Never carried, used, or sharpened.
Overall length:  5 1/4"

Blade length:    2 1/4"

Closed length:  3"