Rudy Ruana Fixed Blade "M" Marked Skinner Knife, Leather Sheath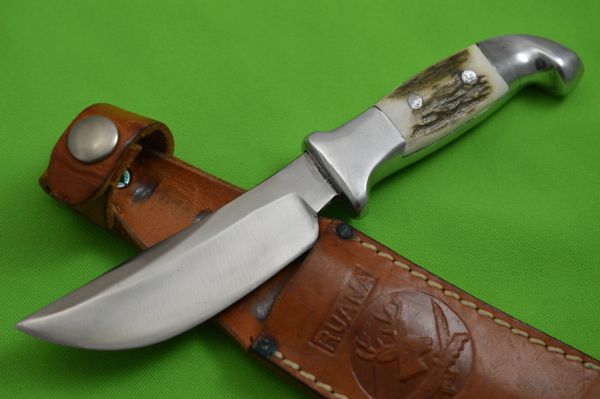 Rudy Ruana Fixed Blade "M" Marked Skinner Knife, Leather Sheath
This Rudy Ruana fixed blade skinning knife was made in 1968.  It comes from the original one owner collection, who purchased it directly from Mr. Ruana that same year.  It is in excellent unused, unsharpened and uncarried condition, and includes the original leather copper rivet belt sheath.  The rivets have developed a green patina from age.  The blade is carbon steel and is in excellent condition.  The knife is solid, with no loose parts.  Two pins hold the elk insets which are tight and show no evidence of cracking.  The cast aluminum frame is also in excellent condition.  The finish shows some fine surface swirls from storage and age.  The knife is stamped "R.H. RUANA BONNER MONTANA", and the letter "M".  The "M" was used from 1962 - 1983.
There is no pouch included with the knife and sheath.  

Condition:  Previously owned. Excellent.
                    Never used, carried or sharpened
Overall length:   7 3/4"
Blade length:      4"
Handle length:    3 3/4"