Steve Dunn M.S. Engraved Stag Bowie, Tooled Leather Sheath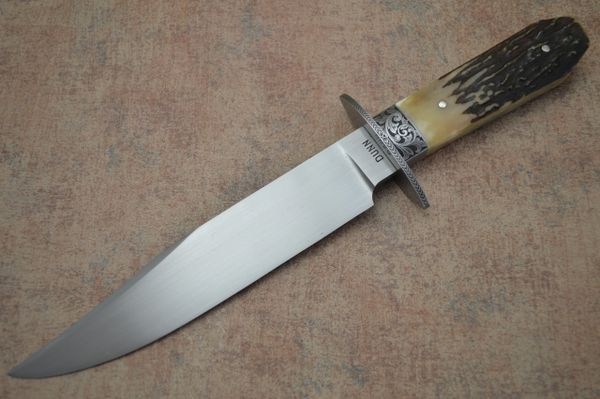 Steve Dunn M.S. Engraved Stag Bowie, Tooled Leather Sheath
Steve Dunn began making knives as a hobby in 1988 and in 1990 enrolled in the basic forging class at the ABS school in Washington, Arkansas, where he started forging his own Damascus.  By 1994 he had reached the level of Master Bladesmith in the American Bladesmith Society, and began teaching at the ABS knife-making school.  In 2003 he was selected to serve on the ABS Board of Directors.  And in June 2019 Steve became the President of the ABS.  All of Steve's knives are sole authorship.  In fact, Steve even does his own engraving.  In April 2002, he attended a basic engraving class at the GRS Engraving School in Emporia, Kansas, and is now an instructor at the GRS Engraving School.  Steve is at the top of his game.  His knives are highly sought after by collectors.  And it doesn't hurt that he is a real gentleman and very easy guy to talk to.

The blade of this gorgeous Bowie knife was forged from 1084 carbon steel.  The top edge of the blade has also been sharpened, approximately 3" from the tip.  The mortised handle (hidden tang) is two very well matched stag scales, held by two stainless pins.  Steve has expertly done some of his signature engraving on both the guard and ferrule.  He has stamped "DUNN" on one side of the ricasso, and "MS" on the other side.  This knife is previously owned, and in excellent condition.  Of note is the small flea bite size spot on the M.S. side of the ricasso.  There are some very fine micro scratches on the blade - only visible in certain lighting and angles - from insertion and removal from the sheath.  The included tooled leather sheath was also done in Steve's shop.  It does have some scuffs and scratches from storage.

Condition:  Previously owned.  Excellent.
                    Never used, carried or sharpened
Overall length:  12 1/8"
Blade length:     7 1/2"
Handle length:   4 5/8"