Terry Davis Two-Blade Stag Trapper, Slip-Joint Folding Knife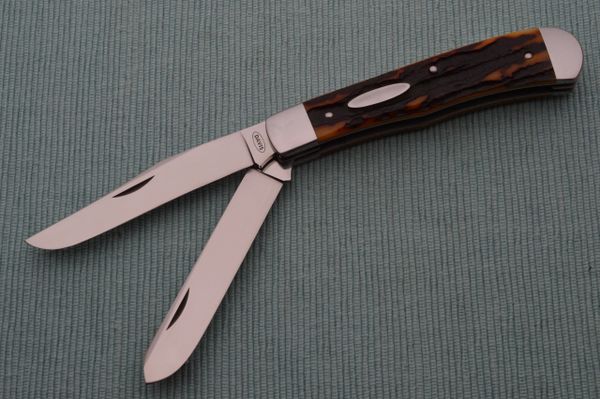 Terry Davis Two-Blade Stag Trapper, Slip-Joint Folding Knife
Terry Davis is from Sumpter, Oregon.  He, along with master knifemaker Eugene Shadley, literally wrote the book "How To Make Multi-Blade Folding Knives".  Terry's knives are outstanding, and hard to come by.  His production is relatively low, those who have his knives tend to hold on to them, and his wait time for orders can be several years.  He is known for his impeccable fit-and-finish, and is truly a master at making slip joint folders.   You have to hold one of Terry's knives to truly appreciate it.  The quality of his knives has been consistent throughout his career.

This large two-blade Trapper is absolutely gorgeous.  It features a Drop Point blade and a Spey blade, both made from ATS 34 stainless steel.  The blades do not have half stops.  Each blade has an ample, deeply cut nail nick for a firm, yet easy and smooth pull.  The scales are amber colored stag, with lots of figure, depth and color.  There is an oval shield on the presentation side, and it is pinned in 3 places.  The bolsters and liners are 416 stainless steel.  Terry has stamped "DAVIS" in an oval on the ricasso of the drop point blade.  And on the backside of the same blade is stamped "ATS 34" and "2005".  Both blades lock up tight with no play, and each blade is aligned centered between the liners of the rear bolster.  Nice "walk-and-talk".  The knife is previously owned, and in excellent condition.  The stag is perfect.  The knife has been in a one-owner collection for the past 18 years, so there may be a wisp of a mark somewhere, from storage / handling.  Comes in a padded, zippered case.

Condition:  Previously owned. Excellent.
                    Never used, carried or sharpened.
Overall length:  7 1/2"

Blade length:    3 1/4" (each blade)

Closed length:  4 1/4"