Timothy Wright Interframe Lock-Back Folding Knife, Cocobolo Inlay, #54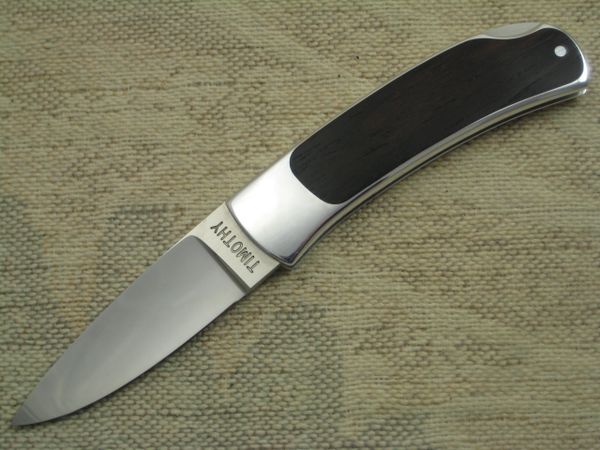 Timothy Wright Interframe Lock-Back Folding Knife, Cocobolo Inlay, #54
Tim was born in Chicago, and spent the first 43 years of his life there. He moved to Arizona 21 years ago, and is still making knives there today. He made his first knife in 1975. Tim struggled with knife making during the first 7 years of his career. He started to do better when he began making interframe folders. He makes all kinds of working knives, but he is best known for his folding knives. Tim has 3 goals as a craftsman, to steadily improve his craft until he is no longer able to do it, to educate people on what he feels is important about this craft, and to find a student that he can pass his knowledge, and perhaps his tools, on to so they can avoid most of the dumb mistakes he made and take this craft to the next level.T

This is an absolutely beautiful example of a rear lock-back Interframe folder from Tim Wright. According to a communication with Tim, he made this knife in 1983. The frame is 7075 aluminum, and the inlays are Cocobolo. The blade steel is 154CM. According to Tim, the knife is marked "TIMOTHY", his early maker's mark, and "#54", because it was the 54th knife he had made in this pattern, at the time. And according to his records, this was the 218th knife he made overall. The is no nail nick on the blade, but you really don't need one. The knife opens as smooth as silk, with a great snap. The lock depressed easily - no stick - and the blade closes just as smoothly, with the same resounding snap. The blade locks up tight with no play in any direction, and it sits centered in the frame. It is in excellent condition. The blade is in new, unused, unsharpened condition. The Cocobolo inlays are perfect. The frame has some very fine handling / storage marks, that you have to look for under magnification. It comes in a padded, zippered case.

Condition: Previously owned. Excellent + condition
Never used, carried, or sharpened.
Overall length: 6"

Blade length: 2 5/8"

Closed length: 3 3/8"